Welcome to my website bensedman@hotmail.com

Photography has always been a passion of mine and travel has inspired my work. Having had the opportunity to live in various locations, capturing the vibrancy and soul of a place through photography, has always been my intention.

Originally from North Yorkshire, I spent much of my childhood around the picturesque Yorkshire coastline. I currently live and work in Manchester and lecture at Manchester Metropolitan University. I spend much of my spare time on the stunning Llŷn Peninsula, North Wales, restoring a former quarryman's cottage and developing my photography skills!

I have my work displayed, and for sale, in several locations around the North West including, The Chorlton Arts Market (CAM), and Tonnau Art Gallery, Pwllheli.

With the help of friends, I also have my work available to buy at the fantastic Manchester & Cheshire Artisan Makers Markets. These markets showcase a huge variety of artisan crafted products, live music & specialist food and drink. Between us, we always have a pitch at the following events :

First Saturday of each month - Cheadle, located on Cheadle Green,
First Sunday of the month - Knutsford, located in the town centre,
Second Sunday of the month - The Northern Quarter, Stevenson Square, Manchester,
Third weekend of the month - Spinningfields, outside Armani Exchange, Manchester
Last Sunday of the month - West Didsbury, outside Withington Hospital, on Burton Road.

For more information visit www.themakersmarket.co.uk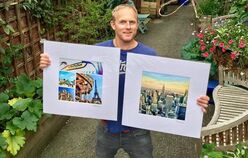 When using my website simply:

1) Choose a design (or a variety of images from different designs to create your own bespoke version)
2) Choose the size, frame colour (or just have it mounted)
3) Please order via email bensedman@hotmail.com or call me on 07738 558639

​l look forward to hearing from you!



---
Spinningfields and Canal Street card holder discount available.

Winner of the Manchester Airport Photographic competition 2011

Winner of the Miami Beach Photographic competition 2013

Article in Mancunion Matters, December 2013. http://mancunianmatters.co.uk/content/271213950-through-lens-old-new-manchesters-best-buildings-captured-award-winning-photographe

​Visit Manchester (The official destination website for Manchester), February 2016 http://www.visitmanchester.com/articles/top-5s/top-5-photography-spots-in-manchester/